Library
Dearborn Park Library
Meet the Librarian, Ms. Kathleen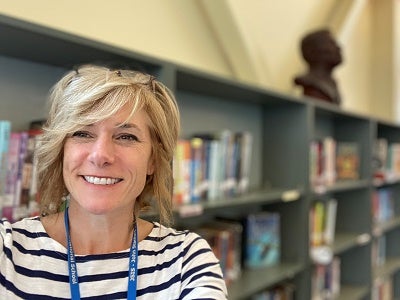 Please contact Ms. Kathleen with any questions – especially if you believe a book has been returned, never made it home, or unable to pay for damaged or lost books.
The best way to contact Ms. Kathleen is via email at kmgillespie@seattleschools.org
Ms. Kathleen's Schedule:
At Dearborn Park International on Thursdays, Fridays, and every other Wednesday.
At John Stanford International on Mondays, Tuesdays, and every other Wednesday.
Global Reading Challenge
The Global Reading Challenge is a reading incentive program for 4th and 5th graders enrolled in Seattle Public Schools. Students form teams and read selected books, then take part in a trivia competition.
Seattle Public Library (SPL) Link Card
Every student has a SPL Library Link Card for electronic resources including e-Books, audiobook downloads, comics, music downloads and movies. More info on the SPL website.